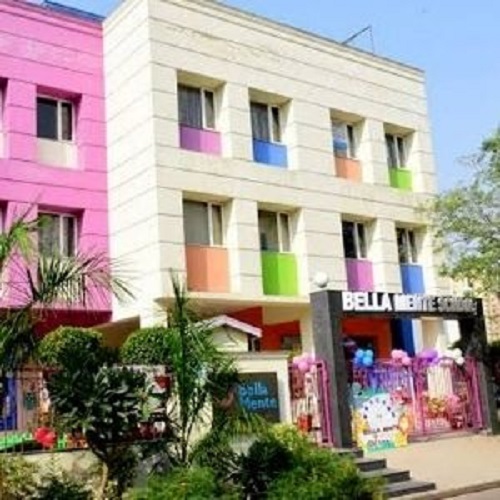 Bella Mente Preschool, Gurugram Sector – 50
As one of the best preschools in Gurgaon, Bella Mente strives to nurture beautiful minds.
Nestled in the sprawling, green and secure heart of the city, the Gurgaon preschool branch of Bella Mente is the flagship school of our rapidly growing chain of preschools across India.
This is the perfect oasis for your child's learning amid the bustling nature of city life. Its ease of location makes it the best option for those looking for a preschool in Gurgaon. This branch is 10,800 square feet of luxuriant greenery. We have invested in state-of-the-art facilities to provide our students with every possible learning opportunity that will shape them into well-rounded individuals under the supervision of our early childhood care givers and educators.
Our learning centers across the schools provide children with interactive, wondrous, and sensory driven experiences, encouraging them to exercise their senses, building vital connections and theories about the world around them. The interiors are specifically designed to facilitate experiential learning with innovative spaces such as multi-activity rooms, an open splash area, a spacious gymnasium, a well-stocked library, and a yoga room.
In childcare settings, we should pay extra attention to the children in outdoor play areas as they are unpredictable and energetic there. We make every possible effort with careful supervision, well-maintained equipment, and appropriate play surfaces. The basic elements for facilitating large motor and socio-emotional development are included in these play areas like sand areas, buggies, swings and slides, and grassy activity areas where they experience hands-on learning from their environment.
At our play school, we believe that guiding a child to making healthy food choices is important. Our menu is carefully planned to ensure that your child is exposed to a wide range of healthy food cooked in a variety of ways that will whet their appetite. All meals are prepared in-house for the children. We procure many of our cooking ingredients from our organic kitchen garden.
Our well-established and highly popular day-care program is specially designed to keep the evolving inquirers busy. We have a varied selection of activities to keep them positively stimulated like dance, kick boxing, yoga, art, and craft.
We have left no stone unturned to ensure your child's safety at our premises. The preschool is equipped with a first aid facility to handle minor injuries efficiently, in case required. It is strictly a non-smoking premise with all female staff. Our nursery is round the clock monitored by CCTV and a qualified registered guard. Drop-off and pickup are registered and monitored by the designated staff.
Lastly, we ensure that the staff of Bella Mente commits to creating and maintaining a safe, happy, and child-centered environment in which children are inspired to become purposeful, life-long learners
We would like you to experience the true magic of our vibrant school and see first-hand what sets us apart from other preschools and day-care around. Arrange a visit with us to get in touch for a better understanding of what we offer.