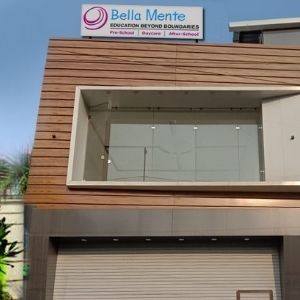 Bella Mente Pre School, Ratlam
Embedded in the heart of the city, Bella Mente is the first Vedas inspired chain of preschools in Ratlam. Is prime location makes it an ideal choice for anyone looking to send their child to a preschool in Ratlam. The branch is staffed with the most experienced, highly qualified and dedicated professionals, who possess a variety of skills relevant to childcare. The staff is committed to creating a loving, happy and stimulating environment that responds to the needs of enthusiastic and inquisitive individuals. The building structure is designed to be bright, airy and spacious, catering to a child's sensibilities. Everything ranging from classrooms to equipment, resources and play facilities, ensures that children have constant access to a wide variety of activities and areas that support their development and learning.
The Bella Mente Preschool in Ratlam provides healthy and nutritious meals daily. This is planned in consultation with our onboard dietician. We provide a safe, comfortable, and supervised transport service. Drivers and help staff undergo timely police checks frequently. These aspects together make this branch of Bella Mente one of the best preschools in Ratlam.